News
Seth Meyers to Perform Benefit for CASA of NH and Granite State Children's Alliance
On Saturday, November 4th the host of NBC's "Late Night with Seth Meyers" will be in Manchester at the SNHU Arena to perform a one night only show benefiting Court Appointed Special Advocates of New Hampshire and the Granite State Children's Alliance.  Meyers, a New Hampshire native and 13 year veteran of "Saturday Night Live" will be home for one night only. Tickets to the public will be available September 18th.   
Townsquare Media's Year of Service announces Granite State Children's Alliance as winner
Townsquare Media's Year of Service program has been going on for well over 30 years. And every year, this charitable initiative supports New Hampshire non-profits on three Townsquare Media radio stations (102.1 & 105.3 The Shark, 97.5 WOKQ and 94.9 WHOM.)
This year, we are proud to announce we are one of eight non-profits who have been selected to receive an extensive multi-media marketing campaign spread over all the stations and their digital platforms.  We are honored to be selected.  Listen across their stations during the month of November, December and January for our important messages.
New Hampshire's Child Advocacy Centers Launch KNOW & TELL
For every child victim who finds the courage to report their abuse, we know that 9 do not. Statistics show only 1 in 10 incidents of child abuse is ever reported. The Granite State Children's Alliance is excited to launch KNOW & TELL, an initiative to say something when adults see something to protect our children.
Beards for Bucks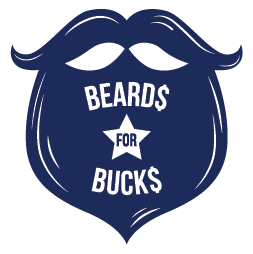 Annual event every October.  To bring awareness to the work of Child Advocacy Centers, a number of Police Chiefs have authorized their officers to grow beards, mustaches or goatees during the month of October. These officers are proud of the great work of the Child Advocacy Center and want to thank you for supporting them in their efforts!
Over 70 law enforcement agencies participated last year raising over $286,000 on behalf on New Hampshire's Child Advocacy Centers.  We are thankful to our partners in Law enforcement and members of the community for supporting the work of Child Advocacy Centers across this Granite State.  
The Jet Gala
Friday, June 3rd at 6:00pm.  We're rolling out the red carpet for you!
You show up. You eat. You drink. Then, maybe you get on a plane or helicopter, or hop in a limousine, and live like a celebrity for the weekend! You'll have a great time, and your ticket dollars will join the fight to end child abuse in New Hampshire.
The Jet Gala takes place in a hangar located at the Manchester-Boston Regional Airport. Parking is free.  Attendees bring a packed suitcase, walk the red carpet and enjoy an evening of cocktails, appetizers, entertainment, and dancing.  At approximately 9:00 pm, the drawing for one Grand Prize Winner and two Runners Up will take place!  The Grand Prize Winner and their guest — who must also be a ticket holder at the event — will grab their packed suitcases, and off they'll go!
Visit the The Jet Gala Website for more information about details.  
We Are the Difference
April is Child Abuse Prevention Month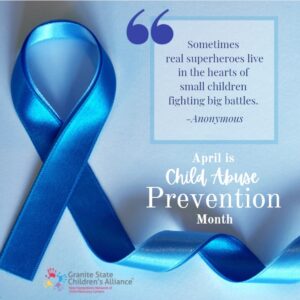 To bring awareness to the work of Child Advocacy Centers, and the prevalence of child abuse, we are hosting an event on April 21st.
"We Are the Difference" will kick off Thursday, April 21st in Eagle Square in Concord, NH from noon until 1:00pm.  It will be a moving event with a visual display to show the prevalence of child abuse and the number of children who visit a Child Advocacy Center in NH every year.  We hope to see you there on Eagle Square