The momentum of 2016's successes gave us extraordinary motivation to look forward to 2017 and beyond as we ventured on a yearlong strategic planning initiative, Runway to 2021.
The results of this work will positively affect the direction of our organization, our child protection system in NH and our CAC movement for the future. Follow us as we take the next step forward remaining dedicated to the tireless fight to assure that children and their families have a victim centered CAC experience in a safe and responsive place to move beyond their trauma to Heal, Survive and Thrive.
Who We Are
New Hampshire's Child Advocacy Centers are community partnerships dedicated to pursuing the truth in child abuse cases and coordinating social services for child victims. By bringing together our State's law enforcement, county attorneys, protective services, victim advocacy agencies and health professionals, New Hampshire's child advocacy centers provide safe, child friendly locations for interviewing child victims. Children are interviewed by a forensic interviewer. The forensic interviewer has special training and is experienced in talking with children. Our mission is to provide all victims of child abuse in New Hampshire a neutral environment where justice, healing, equity and prevention are fostered through the consistent, high quality and sustaining collaboration of community partners.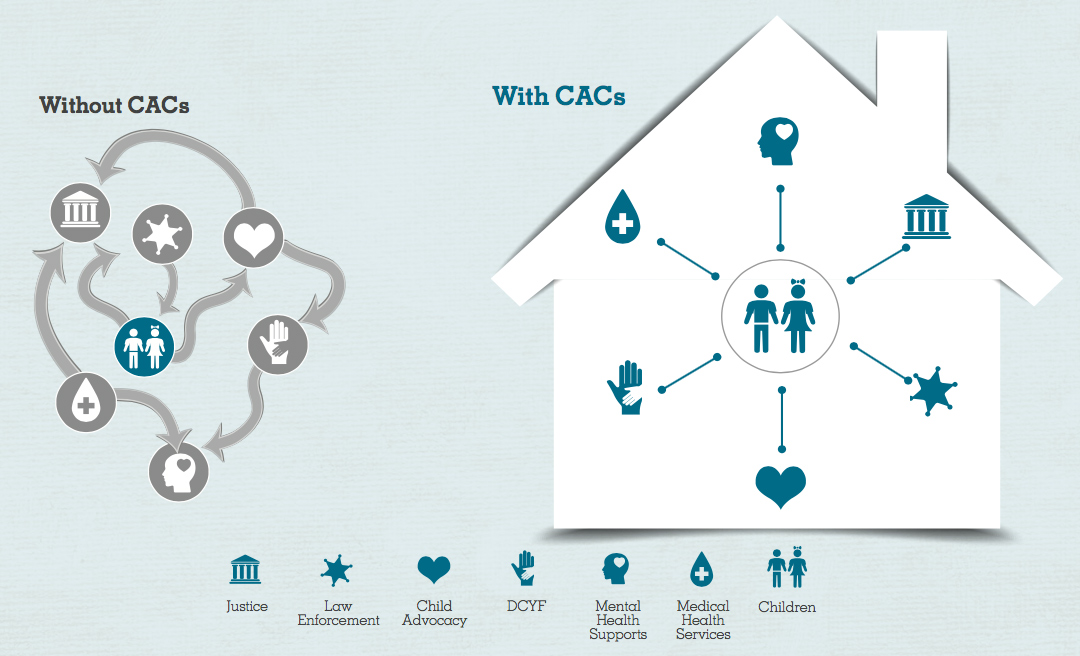 Where We Are Today
There are 11 Child Advocacy Centers in New Hampshire – providing access to all children in the state. We have one in each county; Hillsborough County has two.
All New Hampshire CACs are accredited with the National Children's Alliance
There are 3 CAC Models in New Hampshire:

Non-profit
County-based
Hospital-based

On average, children referred to a CAC were interviewed for:

Sexual abuse: 76%
Physical abuse: 17%
Other (witnessed a crime, neglect, etc.): 11%
Most children seen at CACs are between the ages of 7 and 12 years old
27% are between 0-6 years old
38% are between 7-12 years old
31% are between 12-18 years old
4% are Undisclosed
(Several NH CACs support victims older than 18 years of age)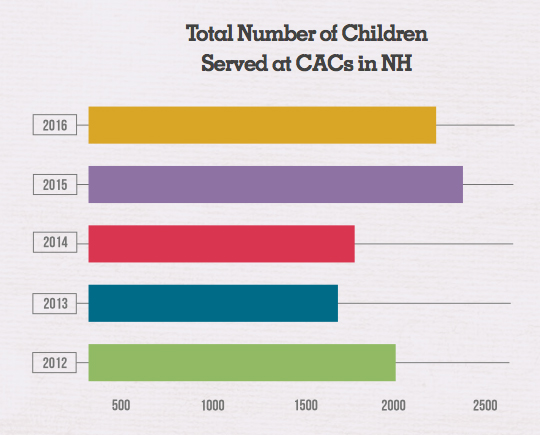 The number of children seen at CACs receiving health services since 2012
Medical Exams/Treatment
733 of the 2,359 children (or 31% of children) received a medical exam or consultation
Referrals to Counseling/Therapy
1,359 of the 2,359 children (or 58% of children) were referred for health assessment or treatment
Counseling/Therapy – Treatment
777 of the 2,359 children (or 33% of children) received mental health treatment
Where We're Going
The purpose of our strategic planning initiative is to improve outcomes for child victims of abuse
We Believe In…
Becoming a Recognized Leader Empowering Local Communities to Identify, Respond and Serve Child Victims of Abuse
NH CACs are committed to leading the effort for a collaborative response to a victim-centered, trauma informed service model.
Expanding Access to Child Advocacy Centers
All victims of abuse are deserving of a high-quality, consistent, and seamless response which is easily accessible, welcoming and incredibly supportive.
Advancing the Pathway to Medical and Mental Health Services for Child Victims and their Families
Child abuse and neglect is a public health crisis that demands a multidisciplinary response for affected children and families with appropriate assessment, evaluation and treatment.
Strengthening a System of Organizational Excellence
GSCA is committed to organizational excellence for the continued growth and success of CACs across New Hampshire.
Measuring Results
GSCA and CACs in New Hampshire will measure outcomes and continue to improve the CAC experience for victims of abuse and their families moving forward.
The Outcome Measurement System (OMS) — What Does it Tell Us?
Child Advocacy Centers in NH utilize OMS to give families and team members a voice in the CAC process, which in turn allows centers to demonstrate their success and nd areas for improvement. Through this evidence-based reporting process, CACs survey clients by collecting information to make sure that the services they provide to children and families—and the MDT model—are working. OMS allows CACs to report on survey items designed to capture three measurable outcomes:
Healing: Restoring the lives of children and families after abuse
Justice: Striving toward collaborative and ef cient case investigations supporting the CAC/MDT approach
Trust: Ensuring children, families, and MDT members can trust their center and the CAC model